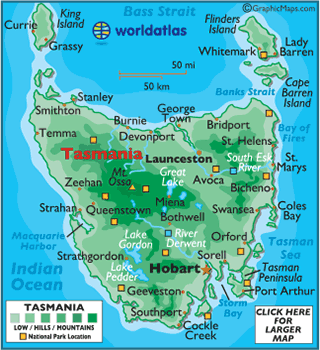 Last week, the state premier of Tasmania, Peter Gutwein, shocked many in the world of Australian rules football by demanding that his state be given a new Australian Football League (AFL) team, otherwise they would not continue to host multiple neutral site games during the 2022 AFL season and beyond. The move was eyebrow-raising to say the least; AFL CEO Gillon McLachlan has long resisted establishing a Tasmanian side, instead focusing on growing the game in other areas of Australia. Both Hawthorn and North Melbourne have held four "home" games in Tassie for the last decade-plus, but their current deals expire in 2022.
"We will not finalise the arrangements for the next contract with Hawthorn or North Melbourne until we have clarity from the AFL in terms of our own licence. That clarity doesn't exist at the moment," Gutwein said. "I've made it perfectly clear to Mr. McLachlan that we cannot and will not finalise those arrangements until we have that clarity."
The AFL is currently comprised of 18 teams: 10 in the state of Victoria; two in Perth, Western Australia; two in Adelaide, South Australia; two in Sydney, New South Wales; and two in southeast Queensland. The AFL remains Australia's highest level footy league and inherited the old teams from the erstwhile Victorian Football League (VFL) when it became the AFL in 1990. The Sydney Swans had already relocated from South Melbourne in the 80s, while the West Coast Eagles were the first brand-new non-Victorian side in the new competition in 1987. The Adelaide Crows followed in 1990. Later in the 90s, Fremantle entered the competition as the second Perth team, while the Brisbane Bears and Fitzroy Lions merged to form the Brisbane Lions in 1996.
In the 21st century, the only new teams have been the Gold Coast Suns (2011) and the Greater Western Sydney Giants (2012). This fulfilled legendary AFL coach Ron Barassi's dream of establishing two franchises in both Queensland and New South Wales. The so-called "Barassi Line" — which separates those two rugby-crazy states from the rest of Australia — had long been considered insurmountable in terms of spreading the code of Aussie rules nationwide.
So why has Tassie been left out for so long? After all, their history in footy stretches all the way back to the 1860s. They've also produced some of the game's greatest players, including Garry Lyon, Alastair Lynch and Russell Robertson. But with a small population (barely half a million), historic regional rivalries and minimal corporate sponsors, the plan to make a united club for the small state has stagnated. This has been exacerbated by a dwindling local following and struggles to preserve the Tasmanian State League (TSL).
Part 1: The History
Tasmania was the second state (after Victoria) to embrace Aussie rules as a winter sport in the 1860s. The sport, founded by Aussie cricketers as a way to keep fit in the offseason, quickly spread south across the Bass Strait to Tasmania. The largely rugged and mountainous state developed strong regional competitions in and around the two largest cities on the island — Launceston in the north and the capital, Hobart, in the south. The state hosted three national football carnivals (1924, 1947 and 1966). Alongside Victoria, South Australia, Western Australia and the Northern Territory, Tassie is considered one of the historic "footy states" (as opposed to Queensland and New South Wales, which have historically favored rugby league as the dominant winter sport).
Once the VFL became the AFL, they almost immediately began playing preseason matches in Tasmania. The small state has only two high-quality AFL ovals — Bellerive Oval in Hobart and York Park in Launceston. But back in 1992, Roger Curtis, the president of the successful TSL club Clarence, warned that footy's presence in Tassie would dwindle if they weren't represented in the AFL competition.
"The only way to get the kids playing football here is to give them access to the best product available and that, of course, is AFL football," argued Curtis.
Two years later, Tasmania's minister of sport, Pete Hodgman, spoke to AFL officials about the possibility of a Tassie team entering the competition by the late 90s. Local and state government figures proposed the construction of a new 30,000-seat stadium suitable for AFL at the Hobart Showgrounds, but the plan eventually fell through.
In the 21st century, the TSL began to experience a significant decline in crowd attendance, participation rates and funding. Some clubs began folding. Other smaller leagues merged into others. Many sporting figures and local politicians alike predicted that soccer would overtake Aussie rules in popularity in the near future, and they've since been proven right.
When Gold Coast and Greater Western Sydney entered the as the 17th and 18th teams in the AFL, many footy fans elsewhere shook their heads at bringing footy into rugby territory while Tasmania continued to be left out in the cold. Then-AFL CEO Andrew Demetriou shrugged and said, "Tasmanians already watch footy."
"They probably do deserve a team. We shouldn't dismiss the contribution that Tasmania has made to our game," Demetriou continued. "They are absolutely entitled to put forward a proposal, but the commission has already decided where the 17th and 18th teams are going."
Part 2: The Pros
After Demetriou was succeeded by McLachlan as AFL CEO in 2014, Tasmanians began to become more optimistic about a future AFL side. Shortly after being appointed to his current role, McLachlan threw his support behind the idea of a united Tasmanian team as the 19th AFL side, although he said it wasn't likely to happen for at least five years. "The building blocks are in place," McLachlan stated.
Both McLachlan and other AFL figures have discouraged the idea of a struggling Melbourne-based franchise relocating to Tassie in the future. They've also ruled out relocating a struggling newer team, such as the Gold Coast Suns, who have not yet made the AFL Finals despite being in the league for a decade now.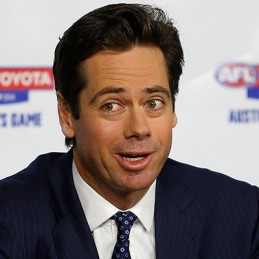 In the winter of 2018, McLachlan announced the findings of an AFL committee that had been established to study the feasibility of a permanent AFL team in Tasmania. Among other recommendations, the AFL agreed on several key points heading forward:
An extra $1.4 million dollar investment to AFL Tasmania, starting in 2019
An extension of Tasmania's under-12 and under-18 junior footy programs, with more focus on competing in interstate tournaments
Full-time men's and women's sides (nicknamed the Tassie Mariners) to begin play in the Melbourne-based TAC Cup under-18 competition
Continue to provide funding from the AFL to the TSL
The creation of three regional administrations to focus on consistent growth throughout the state
A new advisory board, made entirely of Tasmanians, to oversee the changes
As of 2018, there are over 90,000 Tasmanians who are members of current AFL sides, which points to a positive sign that they would potentially welcome their own club into the league. There are already plans to bring the Tasmanian Devils team into the VFL and VFL Women's competitions within the next few years, while the North Melbourne women's side has also rebranded themselves as the North Melbourne-Tasmanian Kangaroos.
Brett Godfrey, co-founder of Virgin Australia and chair of the AFL Tasmania task force, reported in 2018 that a potential Tassie AFL team would generate roughly $110 million per year and create over 350 local jobs. It would also add about $19 million to the AFL's current broadcast deal. Despite Tassie's modestly-sized economy compared to other Australian states, the report also stated that revenues from a local AFL side would be roughly the same as a smaller Melbourne-based team, such as St Kilda or North Melbourne. Godfrey's report claimed that a local team would cost the state government less than it currently spends to sponsor the Hawthorn and North Melbourne games. By the following year, the task force had collected 60,000 signatures supporting a standalone Tasmanian team.
The Tourism Industry Council of Tasmania chimed in as well:
"A Tasmanian AFL team should play out of both the north and south of the state, with a relatively even number of games in both Hobart and Launceston each year. We believe this principle must be accepted as fundamental to further discussion about an AFL team in Tasmania to completely destruct any perceptions of a 'southern' or 'northern' team…rather than seeing this as a challenge in the formation of the team, we see it as one of its strengths in being a unifying force within the state and maximising the resources of all regions."
When asked about the key differences between support for Tasmania from the 2000s to the 2010s, Godfrey was cautiously optimistic.
"The loud and clear message was that the state was hopelessly divided and it was too small for a north or south-centric team," Godfrey said in an August 2019 interview with The Examiner. "Tasmania 2019 is not the same Tasmania of 2008. It is more vibrant, confident and economically successful. The narrative is justifiable optimism, but our goal is to substantiate the economics to discredit future arguments."
Chocolate company Mars and MyState Financial have both pledged significant support to a potential AFL side in Tassie. The Spirit of Tasmania ferry company — which offers weekly voyages from Melbourne to Tasmania — currently sponsors North Melbourne to the tune of $1.8 million per year and would likely pledge the same to a new Tasmanian franchise. In the AFL media, many people have thrown their support behind a Tassie team, including ex-St Kilda forward Nick Riewoldt, former Essendon premiership coach Kevin Sheedy and Richmond legend-turned-commentator Matthew Richardson.
Part 2: The Cons
Back in 2015, McLachlan outlined what he believed to be the harsh reality for a Tasmanian AFL side:
"Tasmania deserves its own team. It just does," he said. "Their participation rates, their ratings, their attendance — they are as passionate as any state. Their numbers stack up with Victoria and, in my view, they deserve their own team. The brutal reality right now is the economy and scale of growth, which means they financially can't support their own team playing 11 games. You would need $45 million."
Some commentators were quick to pounce on McLachlan's comments, saying that at the time, nearly half of the AFL teams were struggling to hit that $45 million benchmark. Be that as it may, the 2018 report from Godfrey's task force painted a bleak picture of the status of footy in the state.
"Football has enjoyed a rich history in Tasmania, playing an integral part in its communities and contributing to the national game. Yet the game is under threat — stagnating at best," the report stated.
As mentioned previously, soccer has overtaken footy in terms of youth and overall participation rates. The A-League — Australia's top level soccer competition — has attempted to make in-roads within Tasmania and has already discussed starting an expansion franchise in Hobart. In addition, the TSL has been struggling in recent years, with two clubs being forced to fold in 2018. In the 2016 and 2017 NAB AFL Drafts combined, only one player from Tasmania was drafted.
Back in 2008, the state government conducted a survey of Tasmanians: only 48 percent of residents supported an AFL bid, 41 percent said they would consider attending games and a mere 23 percent expressed interest in becoming members.
"The opportunity to join the AFL and AFLW competitions with no negative impact on their existing clubs must be strongly considered to revive and sustain the sport in Tasmania," the 2018 report recommended. It also cited that both North Melbourne and Hawthorn games have struggled to attract strong attendance figures in recent seasons.
Considering that McLachlan has made it plainly clear that a Tasmanian team is conditional upon dollars and cents, how can Tasmania rake up enough cash to save the sport? And does it make financial sense for the AFL to prop up a dying sport code in Tasmania, regardless of the state's rich football history? These are tough questions that must be answered quickly.
Gutwein's comments from last week come at an interesting time. Like many sports leagues the world over, the AFL has been slammed by the impact of COVID-19. Gutwein didn't make many friends in the AFL when he closed Tasmania's borders completely last year, refusing any Hawthorn or North Melbourne games to be played in the state at all. Hawthorn CEO Jeff Kennett — a former Victoria state premier himself — slammed Gutwein as "very selfish." Meanwhile, Eddie McGuire, media personality and then-president of the Collingwood Football Club, claimed that the AFL and its clubs may need a full decade to recover from the financial impact of the coronavirus pandemic — which, in turn, could pour cold water on Tasmania's plan to have a club by 2025. By the AFL's own estimates, the league suffered a $22 million loss due to the coronavirus.
Another major question is facilities. There have been rumors of a potential new stadium and AFL-level training facility in the Hobart suburb of Macquarie Point, although no plans are officially set in stone. As it stands, a Tasmanian AFL team would likely play most of its home games in Hobart as well as a few at York Park in Launceston. Both venues are solid, but not considered AFL-level.
"We think today's facilities will, as a minimum, require upgrading by a possible entry date," Godfrey said in his interview with The Examiner. "We also think that to successfully attract and retain competitive talent, our facilities can't just match AFL standards. It warrants some big-ticket thinking."
Historically, there's been a strong rivalry between Launceston and Hobart, similar to Sydney vs Melbourne on the Aussie mainland. Whatever one city does, the other has to do better. Some observers believe that the rivalry has hampered the idea of a unified Tasmanian team.
"In the halcyon days of Tasmanian footy back in the '60s and '70s, if Tasmania could've found a way to work together — rather than be so parochial and so divided — we'd already have a team of our own by now," lamented former AFL Tasmania CEO Scott Wade.
While an AFL team has strong support among members of the media and influential footballers and coaches, local support has been more mixed. During a February 2018 interview with SEN, then-AFL Tasmania CEO Trisha Squires seemed on the fence:
"This conversation (about a team in Tassie) does happen a lot, as you can imagine, and people do talk about it," she said. "And I think it actually distracts us from the great things we have in regards to football. I'm an advocate for what's best for Tasmanian football and I can't tell you right now what that is. What I do know is we want as much football content in the state. A standalone club could be a distraction."
Other arguments against Tasmania have been a small population and an isolated, rural setting that wouldn't necessarily attract 18 and 19-year-old kids looking to live in an exciting city. On the flipside, one could also make an argument that Hobart or Launceston would have fewer off-field distractions than Melbourne, Perth or Adelaide.
Would AFL draft prospects from Tasmania automatically want to stay home instead of going to the mainland? That remains to be seen, and the lack of elite talent from Tasmania remains alarming. As of last season, less than 30 Tasmanians currently play in the AFL. Hugh Dixon, the 2017 Draft's only pick from Tassie, was cut by the Fremantle Dockers in September after playing only one game in three AFL seasons.
Godfrey remains undeterred.
"If it was my money, I'd invest in it. It's not a business, we all know that, but the AFL is and so we're calling on the AFL, the clubs and the club presidents: if the state deserves a team, you've got to act on it. You cannot continue to kick this can down the street. Nobody can say that Tasmania doesn't have a team because of Tasmania…it's because others have decided that that's the case."
Gutwein still plans to continue to make his case to McLachlan and the AFL as well.
"We know Tasmania is an AFL state…Now is an opportunity for the AFL to actually start with a blank sheet of paper — to determine that they should have a national competition in the future and that Tasmania should have an AFL team at some stage in the future – and for them to consider whether some of those outlying clubs that they have poured so much money into are part of the AFL's future moving forward."