A darkly comedic look at the rise and spectacular fall of Olympic figure skater Tonya Harding, who became notorious after associates of her and her ex-husband physically assaulted rival figure skater Nancy Kerrigan in 1994.
WARNING: SPOILERS THROUGHOUT
Tonya Harding (Margot Robbie) is a no-nonsense tomboy who has basically been figure skating since she could walk. Raised in poverty by her chain-smoking, abusive mother LaVona Golden (Allison Janney) in the suburbs of Portland, Oregon, Tonya shows herself to be a prodigy from a young age.
As a teenager, Tonya drops out of high school to pursue her passion full-time, but is continually dominated at every turn by LaVona. Tonya eventually gains some temporary freedom when she leaves home and moves in with her new boyfriend, Jeff Gillooly (Sebastian Stan). The two have a mercurial relationship and Jeff frequently abuses Tonya physically. LaVona ridicules Tonya for putting up with it. Tonya and Jeff eventually tie the knot, but have trouble making ends meet.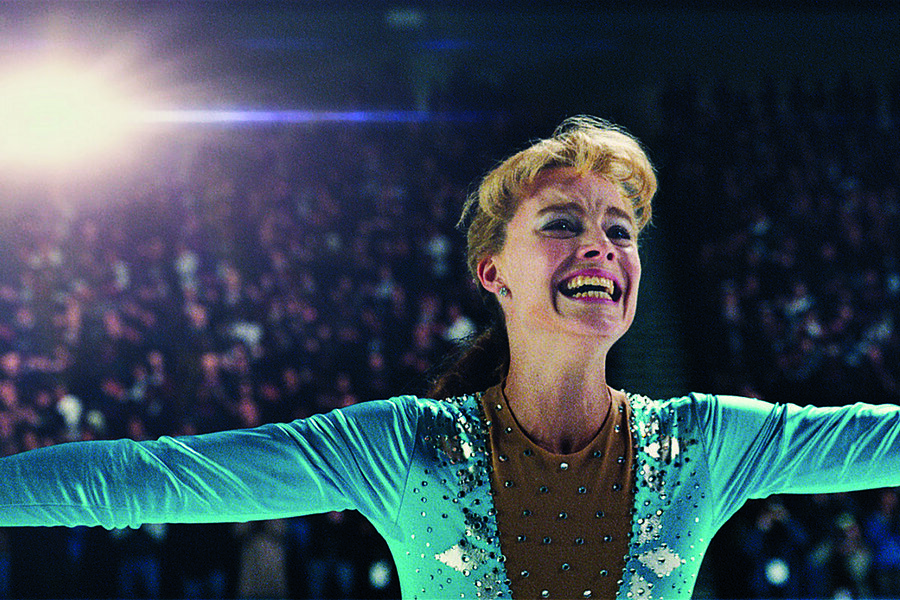 Concurrently, Tonya becomes one of the best figure skaters in the world under the tutelage of coach Diane Rawlinson (Julianne Nicholson) and later Dody Teachman (Bojana Novakovic). However, judges don't particularly care for Tonya's garish, handmade skating outfits or the fact that she skates to 80s glam rock instead of classical music like her contemporaries. Because of her lack of education and poor background, she quickly earns the nickname of "Trashy Tonya." Nonetheless, she makes history in 1992 by becoming the first female skater to ever successfully complete two triple-axel jumps.
After a disappointing performance in the 1992 Winter Olympics, a discouraged Tonya fires her new coach, Dody Teachman, before hanging up her skates. She moves back in with Jeff after resuming their on-again, off-again relationship.
Eventually, Rawlinson contacts Tonya and convinces her to give skating another shot, with the 1994 Olympics only a year away. The premier skaters at that year's Olympics will most likely be Tonya and her fellow American, Nancy Kerrigan. On the day of the Northwest Pacific Regional Skating Championships in November 1993, Tonya receives an anonymous death threat. Scared, she chooses not to compete, while Jeff seeks to get to the bottom of the matter.
Believing Kerrigan's camp to be behind the threats, Jeff hires his friend, dim-witted Shawn Eckhardt (Paul Walter Hauser), to send death threats by mail in retaliation. Fancying himself as Tonya's bodyguard, Shawn hires two inept crooks to locate Kerrigan and attack her. The duo find Kerrigan in Detroit on January 6, 1994 and one of them whacks Kerrigan in the knee with a nightstick as she leaves the ice for the day.
The two goons are apprehended fairly quickly, as is Shawn, who is questioned by the FBI. Shawn points the finger at Jeff, claiming he was the mastermind of the operation. An enraged Jeff, who assumed Shawn would only send the death threat letters, confronts him. Meanwhile, Tonya qualifies for the Olympic team, but is horrified when Jeff tells her of what happened to Kerrigan, who has suffered a severe knee bruise and been eliminated from competition.
Realizing she could be found guilty by association, Tonya contacts the FBI and makes a confession, telling them that Jeff and Shawn were behind the attack. Jeff is arrested and later shown Tonya's interview transcript. After posting bail, he rushes home and attacks Tonya, who escapes and leaves him for good. In response, Jeff implicates his ex-wife, saying she knew about the attack all along. Jeff, Shawn, and the two henchmen are all charged, but Tonya's trial is postponed until after the 1994 Oympics.
Tonya finishes a disappointing eighth in the competition, while Kerrigan makes an amazing comeback and wins silver. Tonya avoids jail time, but the US Figure Skating Association bans her for life. Heartbroken, she begs the judge to give her jail time, but not to take away the one thing she knows how to do; the judge refuses and tells her his decision is final. Jeff, Shawn, and the two assailants all serve time in prison.
The film ends with a "where are they now" segment (more on that below in the Trivia section) and shows real life footage of Tonya Harding over the end credits.
I, Tonya is a brutal, sharply funny take on a notorious event. The film is presented as a pseudo-documentary, interviewing the characters years after the fact, and freely admits that the events shown in the movie are based on "contradictory" and "true" interviews, implying that Tonya, her mother, Jeff, and others could all be unreliable narrators. This, strangely enough, allows I, Tonya to simultaneously keep its distances from the subject matter and also fully emerge itself in it. Director Craig Gillespie adopts an alternately serious and tongue-in-cheek tone for a film that was proclaimed as "the Goodfellas of figure skating."
Screenwriter Steven Rogers became inspired to write the script after watching an ice skating documentary which mentioned Tonya Harding in passing. He arranged interviews with both her and Jeff Gillooly, both of whom remembered details of the scandal very differently. "I decided, 'Well, that's my way in,' — to put everyone's point of view out there and then let the audience decide," said Rogers.
The attack on Nancy Kerrigan and Tonya Harding's subsequent fall from grace is indelibly imprinted on the minds of everyone who was there in the 90s. While it may not have been as explosive, infamous or memorable as the O.J. Simpson trial, it was a watershed moment in sporting history that still provokes debate to this day. Was Tonya really involved in the attack? Did she deserve to be banned for life? All this and more is presented.
This film really is extremely entertaining and consistently engaging, despite the fact that nearly every character is an unlikable prick (pardon my French). Allison Janney, as LaVona Harding, is only a tiny bit nicer than Satan himself, and she earned a well-deserved Oscar for Best Supporting Actress as well as a Golden Globe.
Margot Robbie is a revelation as Tonya Harding. Apart from the obvious physical resemblance, the Australian actress nails the essence of what made "Trashy Tonya" such a fish out of water. Edgy and brash, but also achingly sympathetic, Robbie's performance received nominations at the Oscars, Golden Globes, SAG Awards and BAFTAs.
Despite the humor and general tongue-in-cheek tone, I, Tonya certainly has some eyebrow-raising moments, primarily some very colorful language and a few disturbing scenes of domestic abuse. I wouldn't recommend this movie to anyone who is easily offended by either. Either way, I, Tonya is an entertaining and explosive film that features an all-around great cast and razor-sharp writing and directing.
Grade: B+
Directed by Craig Gillespie
Written by Steven Rogers
Produced by Tom Ackerley, Margot Robbie, Steven Rogers and Bryan Unkeless
Director of Photography — Nicolas Karakatsanis
Music by Peter Neshel
Editor — Tatiana S. Riegel
Starring Margot Robbie, Sebastian Stan, Allison Janney, Julianne Nicholson, Paul Walter Hauser, Bojana Novakovic, Bobby Cannavale, Caitlin Carver, Ricky Russert, Anthony Reynolds
Rated R for pervasive language, violence, and some sexual content/nudity
TRIVIA
Received three nominations at the 90th Academy Awards — Best Actress (Margot Robbie), Best Supporting Actress (Allison Janney) and Best Editing (Tatiana S. Riegel).
Margot Robbie had no idea the screenplay was based on a true story until after she finished reading it. Prior to filming, she met with the real Tonya Harding at her Portland home. Sebastian Stan also met with the real-life Jeff Gillooly.
Allison Janney had actually trained to become a figure skater as a child growing up in Dayton, Ohio. She was forced to give it up at age 17 after accidentally walking through a glass door and severely injuring her leg. "I lost like three-quarters of my blood," Janney remarked in a 2014 interview on Fresh Air. "I lost an artery and cut a tendon….I was in the hospital for like seven or eight weeks. I missed my first year of college."
Director Craig Gillespie said he was attracted to the script because he thought it was a good opportunity to "revisit the story and make a commentary about how the media treats people."
Rogers never had experience interviewing a real-life subject before the film. He initially called Tonya Harding's agent to obtain the life rights to her story and interviewed her over two days in a Motel 6. When he finally tracked her down, he found her extremely forthcoming in the interviews. Harding admitted that she didn't feel like she had anything to lose at that point.
Janney received 35 nominations for best supporting actress (or the equivalent). She won 20 awards out of 35.
Robbie suffered from a herniated disc in her neck throughout the filming process and had to have frequent MRIs to ensure it was safe for her to continue filming.
Sarah Kawahara was Robbie's skating coach and choreographer. Ironically, she was also Nancy Kerrigan's former coach.
Steven Rogers wrote the role of LaVona Golden specifically with Allison Janney in mind. The two are longtime friends, but had never gotten the chance to work together previously. Janney later commented that the role was one of the most challenging of her career.
Although Margot Robbie trained extensively for the role, she was not able to perform a triple axel, nor could a skating double be found to do so, as very few women figure skaters are able to perform the jump. The jump was created using visual effects.
Allison Janney filmed her scenes in only eight days.
Nancy Kerrigan never saw the film and has no plans to do so, stating in an interview "I already lived through that."
Sebastian Stan has blue eyes, but wore brown contacts to match Jeff Gillooly's real eye color.
Every hairstyle that Robbie wears in the film is a wig. The hair team used beer to achieve the desired permed look when regular hair products didn't produce the desired result.
In reality, Margot Robbie is five inches taller than the real Tonya Harding, who is only 5'1″.
Nancy Kerrigan has admitted that she never received an official apology from Harding about the attack, and claimed that Harding had prior knowledge of it. The two agreed to a joint special report for Fox Sports ahead of the 1998 Olympics, which examined the incident and its aftermath on both women. In a 2014 interview with Bob Costas, Kerrigan also stated, "Whatever apology Tonya has given, I accept it. I've always wished her well. She has her own family, I have my family. It's time to make that our focus and move on with our lives."
Premiered at the 2017 Toronto International Film Festival, where it was runner-up for the People's Choice Award.
In Harding's 2008 memoir The Tonya Tapes, she claimed that she wanted to call the FBI to reveal what she knew before the attack, but Gillooly threatened to kill her if she did, even raping her at gunpoint. Gillooly called the allegations "utterly ridiculous" in an interview.
In another interview in 2013, Gillooly expressed regret for causing Harding's downfall, saying that although he believes she is haunted by a guilty conscience, he hates that she is "remembered for what I talked her into doing." "I've had it easy, compared to poor Tonya," he told Deadspin, while again denying the gunpoint rape allegations. "She tends to be the butt of the joke. It's kind of sad to me." Gillooly also went on record as saying that he doesn't begrudge his ex-wife for avoiding jail, and that his own punishment was just.
According to Allison Janney, the filmmakers attempted to track down LaVona Golden, but had no luck.
Shot in only 30 days, primarily in the Atlanta area.
WHERE ARE THEY NOW?
Tonya Harding pleaded guilty to felony conspiracy to hinder prosecution. In addition to her lifetime ban from figure skating, she was fined $100,000 and given three years' probation and 500 hours of community service. She briefly had an amateur boxing career, but had to give it up due to asthma-related issues. In 1995, she married her second husband, Michael Smith, but they divorced only a year later. She married for the third time to Joe Price in 2010, and they have an eight-year-old son, Gordon. Harding has worked odd jobs as a welder, painter, deck builder and hardware sales clerk. In April 2018, she was featured on Dancing with the Stars. She now lives in Washington state.
Jeff Gillooly publicly apologized to both his ex-wife and Nancy Kerrigan and accepted a plea bargain deal. He was sentenced in July 1994 after pleading guilty to racketeering and later changed his name to Jeff Stone. He briefly owned a hair salon and resides in Washington state with his third wife and their two children.
LaVona Golden also lives in Washington state and has been estranged from her daughter for decades.
Shawn Eckhardt also pleaded guilty to racketeering charges and served a year in prison. The two assailants he hired, Derek Smith and Shane Stant, were convicted of conspiracy to commit second-degree assault. Upon his release, Eckhardt changed his name to Brian Sean Griffith. He founded a software company in 2001, which later went bankrupt, and later served three years' probation for a misdemeanor assault charge. He died at the age of 40 in 2007.
Nancy Kerrigan retired from professional skating after the 1994 Olympics and later become an ice show performer. She was inducted into the U.S. Figure Skating Hall of Fame in 2004. Like Harding, she competed on Dancing with the Stars and also has a foundation which raises awareness and support for the vision-impaired (her mother is legally blind). Kerrigan is married with three kids and lives in the Boston area.