She's remembered as one of the most controversial figures in filmmaking history. She was acclaimed as a visionary and a pioneer of an art form. Was Leni Riefenstahl a devious crook or a filmmaking legend? Was she politically apathetic or a National Socialist to her core? And what did she know (or not know) about Nazi war crimes?
Helena Bertha Amalie Riefenstahl, better known as Leni, was born in Berlin on August 22, 1902. Her father, Alfred, owned a successful HVAC company, and her mother, Bertha, was a former seamstress. She had a younger brother named Heinz.
It's important to note that Reifenstahl was always artistically gifted. While her father wanted her to help with the family business, the young Riefenstahl was much more eager to pursue her passions in sports and the arts, particularly swimming, gymnastics, art and poetry. At the age of 16, Riefenstahl saw a production of Snow White with her mother and decided to pursue a career as a dancer. Without her father's knowledge, Riefenstahl enrolled in the Grimm-Reiter Dance School and quickly became one of the most distinguished students in Berlin.
Riefenstahl's dancing skills caught the eye of Austrian director/producer Max Reinhardt, who invited her to tour with his theatre company across Europe. Riefenstahl sometimes made up to 700 Reichmarks per performance and, at this point, had no interest in filmmaking. However, after a series of foot injuries and a subsequent knee surgery, she began to re-evaluate her career plans.
While in the waiting room at her local doctor's office, Riefenstahl spotted a poster for Der Berg des Schicksals (The Mountain of Destiny), a 1924 adventure film directed by Arnold Fanck. Enthralled by acting and filmmaking, Riefenstahl eventually met Fanck through a mutual friend in Berlin. Fanck liked her as both an actress and potential collaborator, and she made a series of short films for him, learning basic producing and editing skills along the way.
Riefenstahl's first major critical success was the 1929 film Die weisse Hölle vom Piz Palü (The White Hell of Piz Palü), which was co-directed by Fanck and G.W. Pabst. A few years later, Riefenstahl both directed and starred in Das Blaue Licht (The Blue Light) which brought her further critical notice outside Germany. With the release of Das Blaue Licht — which won the Silver Medal at the Venice Film Festival — Riefenstahl established herself as an emerging voice in European cinema. Many years later, she claimed that several Hollywood producers had contacted her and tried to get her to move to the US for work, although she declined in order to stay with her then-boyfriend in Berlin. At around the same time, she gained significant attention from an up-and-coming politician by the name of Adolf Hitler.
The exact nature of Riefenstahl and Hitler's relationship remains a matter of heated debate among historians. Some claim that Riefenstahl was a masterful propagandist who was a close confidant and the only female member of Hitler's inner circle. Others insist that Riefenstahl was an apolitical person and only made Nazi propaganda films on her own terms. For her part, Riefenstahl was interrogated by the Allies after the war and went through four separate de-nazification trials. At every turn, she insisted that she had only a cordial relationship with Hitler and systematically denied any knowledge of the Holocaust or involvement in wartime atrocities.
Here's what we do know.
Riefenstahl first saw Hitler speak in 1932 and was enthralled by his talent and charisma. They eventually met later that year. Ever since he saw her in Das Blaue Licht, Hitler had been captivated by Riefenstahl — he once called her "the perfect symbol of Aryan womanhood."
To Riefenstahl's surprise, Hitler invited her to direct a Nazi-funded propaganda film for him titled Der Sieg des Glaubens (The Victory of Faith). It was to be an hour-long film about the Nazi Party's now-infamous 1933 rally at Nuremberg. Riefenstahl was initially reluctant to film anything for the Nazis, but this was not due to any moral objections to the party platform. Riefenstahl attempted to explain to Hitler that she lacked experience making documentaries and felt that she only had a layman's understanding of how the Nazi Party operated.
Reifenstahl later stated in her memoirs:
"Hitler said that this was exactly why he wanted me to do it, because anyone who knew all about the relative importance of the various people and groups might make a film that would be pedantically accurate. But this was not what he wanted. He wanted a film showing the Party Congress through a non-expert eye, selecting just what was most artistically satisfying—in terms of spectacle, I suppose you might say. He wanted a film which would move, appeal to, and impress an audience which was not necessarily interested in politics."
Riefenstahl agreed to the deal, but was given only a few days to prepare in pre-production before the rally itself began, and the deal she struck with Hitler happened entirely without the knowledge or consent of Propaganda Minister Joseph Goebbels. Goebbels, for his part, always resented Riefenstahl, as she was the only Third Reich filmmaker that was never under his direct authority — although Riefenstahl herself insists that Goebbels hated her because she spurned his advances one too many times.
The Victory of Faith is rarely remembered in Riefenstahl's filmography today, and there's a reason for that. Ernst Röhm, leader of the SA and one of Hitler's closest advisors, was featured prominently in the film; he was murdered on Hitler's orders during the infamous 1934 purge that became known as the Night of the Long Knives. Immediately after the killings, Hitler allegedly ordered that all copies of the film be destroyed without Riefenstahl's knowledge.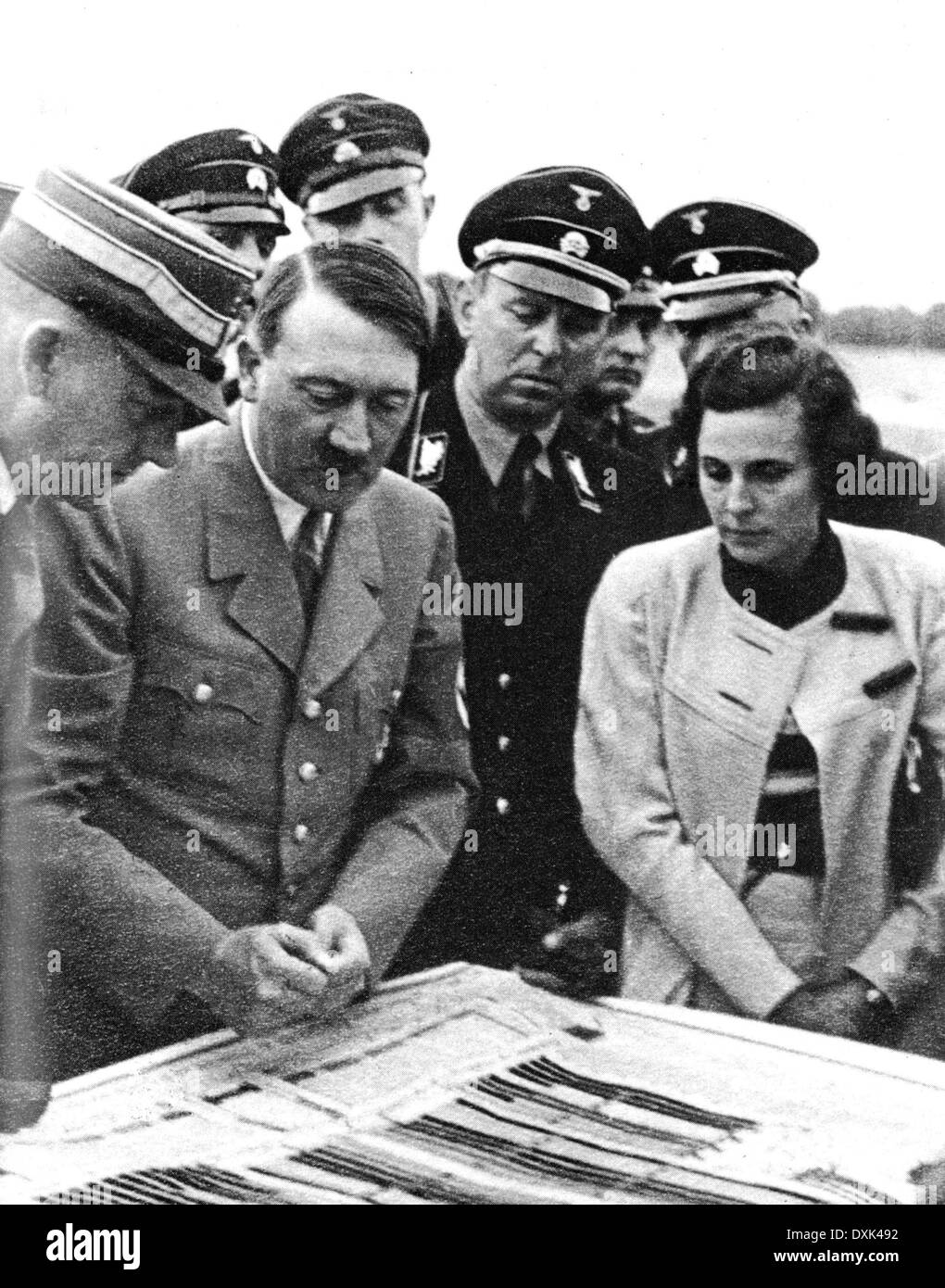 Not wanting to jeopardize his friendly working relationship with Riefenstahl, Hitler ordered her to make a new film about the 1934 Nuremberg rally, titled Triumph des Willens (The Triumph of the Will). However, at the time, Reifenstahl was hoping to adapt an acclaimed German opera called Tiefland (Lowlands) as her next feature film. She obtained private funding for the project and even started filming in Spain, but it ran over-budget and was never finished, so she turned her attention to The Triumph of the Will.
The resulting film has been widely acclaimed as one of the greatest — and most effective — propaganda films of all time. I have personally seen The Triumph of the Will and can attest that it was one of the most groundbreaking films ever made at the time. Riefenstahl's use of cinematography, editing and music were all revolutionary and are still used today. In particular, she was one of the first filmmakers to ever use track and dolly shots, aerial photography and wide-angle lenses. Riefenstahl allegedly staged some of the scenes up to 50 times.
On the other hand, despite the impressive technical achievements, I can't pretend like this film is anything other than a propaganda piece. While undeniably valuable viewing for anyone who's interested in the craft and history of filmmaking, The Triumph of the Will might be the most disturbing film ever made.
The opening titles kind of say it all:
Am 5. September 1934, 20 Jahre nach dem Ausbruch des Weltkrieges, 16 Jahre nach dem Anfang deutschen Leidens, 19 Monate nach dem Beginn der deutschen Wiedergeburt, flog Adolf Hitler wiederum nach Nürnberg, um Heerschau abzuhalten über seine Getreuen.

On 5 September 1934, twenty years after the outbreak of the World War, 16 years after the beginning of German suffering, 19 months after the beginning of Germany's rebirth, Adolf Hitler flew again to Nuremberg to review the columns of his followers.

The Triumph of the Will uses its cinematography, music and tone to establish Hitler as the Aryan man of the people — the one who will liberate Germany from its post-war depression and lead his followers into the promised land of the Third Reich. The film shows adoring crowds, never-ending marches and Hitler Youth rallies to drive home the point, and really does show how basic camerawork and editing tricks can turn something originally mundane into something terrifying .
Riefenstahl swore to her dying day that The Triumph of the Will was never intended as a propaganda piece and that she was disgusted that the Nazis used it as such. Despite her initial insistence that Triumph would be her last Nazi film, she still made several others, including follow-ups Tag der Freiheit: Unsere Wehrmacht and Olympia.
Tag der Freiheit: Unsere Wehrmacht (Day of Freedom: Our Armed Forces) was a shorter, 30-minute doc about the exploits of the German army, who had felt that they weren't given enough screen time in The Triumph of the Will.
Olympia was another groundbreaking piece that still has a major influence today. Allegedly funded by the International Olympic Committee for the 1936 Berlin Olympics, the film was secretly bankrolled by the Nazi Party itself and showcased all the major sporting events at that year's Olympics. Riefenstahl earned critical acclaim for her use of  slow motion shots, underwater footage, extremely high and low shooting angles, panoramic aerial shots, and tracking shots for allowing fast action. Many of these techniques were unheard of at the time, but Riefenstahl's use of them set a standard for many years to come.
Of course, the 1936 Olympics was also when American track and field athlete Jesse Owens made history with his four gold medals, dispelling Hitler's claims that Aryan athletes were superior to all others. Much of the surviving footage that we have of Owens was shot by Riefenstahl for Olympia.
The film premiered in 1938 for Hitler's 49th birthday, and brought Riefenstahl further critical notice. She even embarked on a whirlwind tour of the US, during which she met with dignitaries including Walt Disney, Henry Ford and Louis B. Mayer.
After the success of Olympia, Riefenstahl attempted again to make Tiefland. She shot the film over the course of three months on a budget of seven million Reichmarks. The extras in the film, who were playing Spanish farmers, were actually Gypsies from a nearby concentration camp. Not only were they unpaid and treated poorly, rumors persisted to the end of Riefenstahl's life that she was complicit in violence and abuse on-set. By the time filming finished, the extras were sent to Auschwitz (without Riefenstahl's knowledge).
The Tiefland production moved to Prague to finish filming in October 1944, but by then, the war had significantly turned against the Nazis. The last time Riefenstahl ever saw Hitler was when she got married earlier that year. At around the same time, Riefenstahl's brother, Heinz, was killed in action in a battle against the Soviets.
Reifenstahl distanced herself from the Nazi Party and withdrew from the public eye. While hiking south of Berlin attempting to locate family members in early 1945, Riefenstahl was arrested and detained by American troops.
The novelist and sportswriter Budd Schulberg, who was temporarily working in intelligence for the U.S. Navy and the OSS, was the first major person to interrogate Riefenstahl. He wanted her to identify Nazi war criminals in concentration camp footage that had recently been seized by the Allies. Riefenstahl could not identify anyone and claimed complete ignorance of the nature of the camps. "She gave me the usual song and dance," Schulberg later recalled. "She said, 'Of course, you know, I'm really so misunderstood. I'm not political.'"
Riefenstahl claimed again and again that she was not directly involved with the Nazis in any criminal activity and was completely unaware of the Holocaust. She was held under house arrest for awhile and went through four de-nazification trials. In these, she consistently claimed that, like many Germans, she was fascinated by Hitler, but described herself as "politically naive."
Whatever the case, Riefenstahl's numerous attempts to re-start her career in Europe or elsewhere failed miserably due to her connections to the Third Reich. Many of her former colleagues in Berlin from her pre-Nazi days had fled to the US during the war and were unsympathetic to her plight. While Riefenstahl did eventually recover enough footage from Tiefland to premiere it at a Stuttgart theatre in 1954, the film flopped commercially and was the last movie she ever made.
Eventually, Riefenstahl found occasional work as a traveling photojournalist in Africa, working in both Kenya and Sudan with her longtime companion Horst Kettner. She also wrote a memoir and developed a passion for underwater photography. In 1993, Riefenstahl, then age 91, participated in an biographical documentary called The Wonderful, Horrible Life of Leni Riefenstahl, which won several awards.
In the late 90s, legendary actress Jodie Foster was interested in making a film about Riefenstahl's life and possibly portraying her. Acclaimed director Steven Soderberg tried to do the same. In Foster's case, the film was shut down before it began by the Hollywood powers-that-be, and Riefenstahl objected to potential scenes being included. Similarly, Soderberg shelved his own project due to fears that it would be a commercial failure.
Ultimately, Riefenstahl won over 50 libel cases against people who claimed that she was a Nazi, Hitler's secret mistress, a genocide denier, or worse.
"I am one of millions who thought Hitler had all the answers," she once lamented. "We saw only the good things; we didn't know bad things were to come." She later referred to meeting the Fuhrer as the biggest catastrophe of her life.
Riefenstahl's unusually eventful life came to an end on September 8, 2003 at the age of 101 due to cancer. She was buried in Munich Cemetery.
Leni Riefenstahl was undoubtedly a talented woman who was far ahead of her time, and her legacy as a technical pioneer will always remain intact. And she should also serve as a cautionary tale against using the power of cinema for dubious and unethical purposes, regardless of true motive or intent.